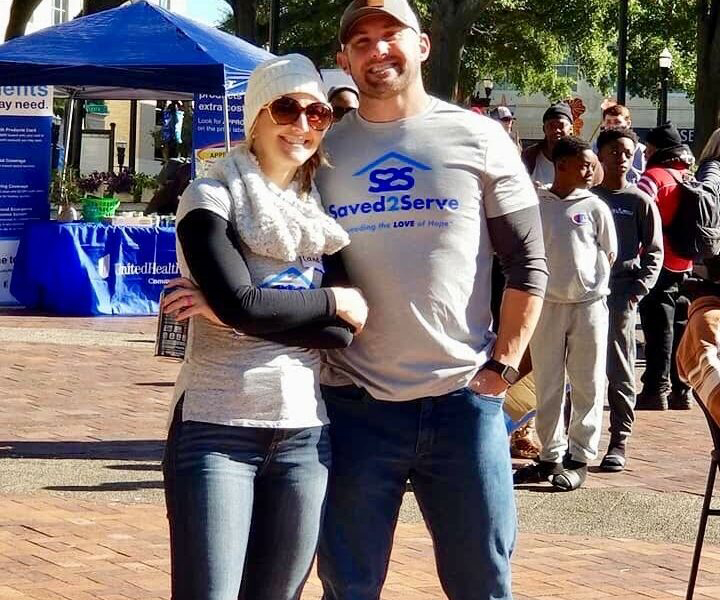 Saved 2 Serve was created and inspired from a mission trip to Alajuelita, Costa Rica in December of 2013. Alajuelita is one of the most poverty stricken cities in the entire country of Costa Rica. To be a part of some amazing community outreach events on this mission trip was a blessing. This mission trip took a love of helping others and completely engulfed our hearts with a yearning to do more not only in countries abroad, but right in our own backyards locally.
Upon returning from the mission trip, we asked our local team if they would like to help make some lunches to hand out to those in need. The first time out, we made 50 lunches and drove around just passing them out of our vehicle. For 2 years, we would make these meals ourselves and distribute out of a truck.
Over the course of the 3 years or more, our group has been blessed with growth to provide 700 meals monthly adding essential items like clothing, shoes, and hygiene items during our bi-weekly Street Friend Outreach Events. During the summer months, we provide ice cold towels and icey-pops, and anything to help cool in the hot Florida summers. During the winter, we provide blankets and sleeping bags.
We go out during the cold, before, during, and after storms offering any assistance we can.
There are many people on the streets who, for one reason or another, do not want to enter a shelter or program, We believe we offer the opportunity to see love and hope during our outreach events that they do not normally experience.
Saved 2 Serve is registered with the Internal Revenue Service as a 501(c)(3) charity and all contributions to Saved 2 Serve are tax-deductible.
Mission Statement:
Our mission is to partner with ordinary people to go and do extraordinary things in the name of Jesus so that all might see, hear and experience God's love in tangible ways. We are a nonprofit organization spreading hope and the love of God to North Florida's homeless population through bi-weekly outreach events providing much needed food, clothing, and hygiene supplies.
Our Vision:
To end discrimination against the homeless population and to develop such an effective network of services that we greatly reduce the time a person or family emerges out of homelessness back into self-reliance with gained trade skills and a foundation with the Lord. We hope to grow to have a homeless shelter that allows us to educate our street friends daily with trade skills helpful to job planting and a elevated life ahead.